How to Make a pleated skirt without a pattern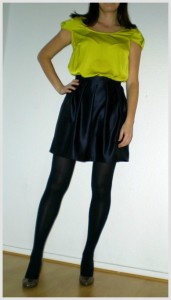 In this post I'm going to show you how to easily make a pleated skirt without patterns and in only 3 hours.
I recently started learning pattern making and I love it.
But at the same time, I have to admit that I don't always have the patience or the time to make a pattern.  That was the case a few days ago. I was invited to a japanese night at my friend Yuka's place and I didn't know what to wear. You know when you open your closet and you feel bored of everything in it? Exactly that's how I felt.
I checked my fabric box and I found some blue marin satin fabric. Suddenly I found myself dreaming of a little pleated skirt but I only had 4 hours before the party.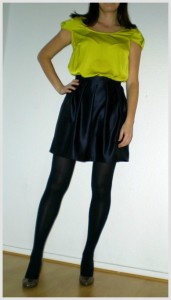 Me encanta hacer patrones. Puedes crear infinitos modelos. Estoy tan obsesionada con hacer patrones que cuando estoy en el bus o caminando por la calle me quedo mirando la ropa de la gente y hago una imagen mental de como serían los patrones para esa pieza concreta.
Se ha convertido en una especie de adicción sana y divertida.
Al mismo tiempo, tengo que admitir que no siempre tengo paciencia o tiempo para ponerme a hacer un patrón.
Eso fue justo lo que me pasó hace unos días. Mi amiga Yuka celebraba una velada japonesa en su casa y cuando miré en mi armario para ver que me ponía no encontré nada original. Sólo las mismas cosas de siempre. Así que decidí echar una ojeada a mi caja de telas y encontré un satén azul marino.
Con sólo 4 horas antes de que empezara el cumpleaños me ví a mí misma soñando con una pequeña faldita plisada.

Before I learned pattern making, I had already done some skirts without pattern.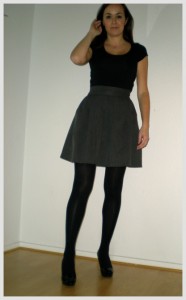 Some were more successful than others (there is a fair amount of them I will never wear in public). But there is one I love: With the time running I decided to go for the same idea.
The procedure is very simple. I took the measurement of my waist and decided the length of the skirt ( 45 cm).
How to cut the fabric
I draw in the fabric the waistband and the main piece of the skirt:
73 cm length x 6 cm wide
140 cm x 43 cm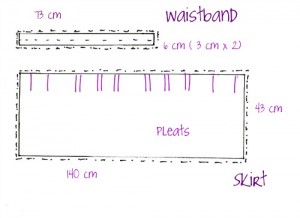 I proceed to cut. I will cut 2 extra centimeters all around the draw lines for the seams and the hem.
Pleated skirt
Now it is time to give shape to my fabric and make the pleats. Since I didn't use any pattern I just followed my gut. My skirt only has a seam in the back so I placed 4 pleats in the back, 2 very close so it will hide a bit the zipper.
The front has 6 pleats, separated from each other around 5 cm.
Waist & Zipper
The next step was to sew the external side of the waistband to the skirt. I placed an invisible zipper. I sewed the inside of the waist folding it 1,5 cm. I finished the  seam and sewed the hem with the machine ( lack of time).
And this is the result of a 3 hours skirt: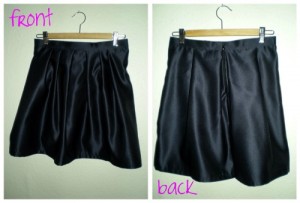 Unfortunately I finally didn't wear it to the birthday, it was too cold !
Sewing tips
– If you want to give some body and rigidity to the waist use some interlining.
– Placing a zipper is easier than what it seems. The secret is to use a zipper foot in your sewing machine . Here you can find a good explanation video on how to do it: How to sew an invisible zipper
IMPORTANTE: este artículo está siendo reeditado, miesntras tanto puedes visitar la versión en inglés donde encontrarás todas las instrucciones para hacer una falda plisada.