3 Sexy Ways of Wearing a Large T-Shirt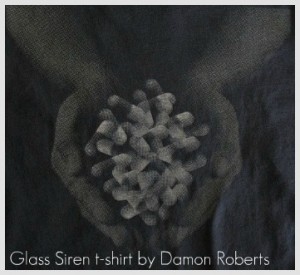 I though Christmas was over. However, yesterday I received a nice surprise. In December I had ordered a christmas present to myself: a beautiful Glass Siren printed t-shirt.
It is as amazing as I had imagined. A little piece of art and 100% cotton.
Unfortunately, there is an issue with it. The smallest size Glass Siren produces is M, which for a man would have been a perfect size but for me it is too big.
I knew it when I ordered it but I liked it so much that I couldn't help it but give it a try.
And let me tell you, despite all, I don't regret it.
It is not the first time I have the same problem, a too big t-shirt.  So with time I have learned how to solve it.

Like in every piece of clothing, the secret always is the way you wear it.
In this post I want to share with you a few tips on how to make cool looks with a plus size t-shirt.

1. Add a cute skirt to the equation
The first option is to wear the large T-shirt with a cute skirt, black pantyhose and high heels. I love the mix of the dark blue with the black.
To make it look tighter to my body I folded the sleeves a bit, which also gives it a very nice touch.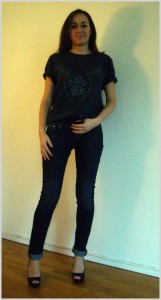 2. Washed blue jean and leather complements
This option is based on basics and simplicity as well. I continue with the folded sleeves and I combine the t-shirt with a washed blue jean. The little touch here is a small patent leather belt that goes perfectly with the patent leather high heels.
I think it looks pretty cool and it is confortable. Forget that old idea that to look beautiful or sexy you have to wear an extra tight t-shirt.
 3. A classic blazer
The last option is very simple. Skinny jeans and a classic jacket. You don't need to complicate it or make it unconfortable!
I bought this blazer 5 or 6 years ago in Zara-Paris, nothing fancy. But it has become one of the most versatile items I have and it still looks trendy.
So, what do you think? What are your secrets to adapt too big clothes to your body type?
Remember, you can always share your ideas on the comments in the blog or via my Facebook page (I share a lot of information there)
If you have any question or suggestion use the contact form in the blog, I will be very happy to help!