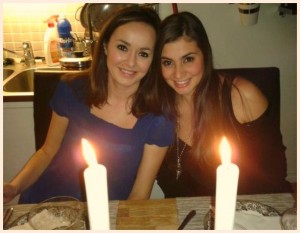 How to alter a dress to give it a new look
I have amazing friends. They're not dozens but the group of people that I call friends are really lovely and amazing.
A few weeks ago my generous friend Yuka  gave me two dresses that used to belong to her sister and now were abandoned in her closet. Yuka has a very funny personality (if you speak some Japanese you can follow her blog) and  I love her style: simple but trendy.
One of the dresses she gave me was this dark blue dress with some kind of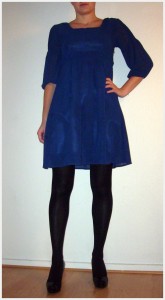 medieval shape.
I love the color and I love the dress because it doesn't seem anything special yet it's very different from the kind of dresses I have.
There was only one little thing I didn't like much: the sleeves.
It is true that they were in coordination with the medieval spirit I mentioned before but unfortunately it wasn't my style.
I like to fell free in my arms, that is why most of my dresses are short-sleeved or completely without sleeves.
So I decided to cut them.
The Changes
A small detail can change the whole style of a dress. That's exactly what happened here.
Normally it is not very difficult to cut the sleeves of any item. In the case of this dress it was very simple.
The first step was to take out the elastic in the end of the sleeve that I would use later to close my short sleeve.
Then I decided the length and cut it.
To cut, I measured from the edge to the wished length in several points. Remember it's very important to measure several points since the lenght of the sleeve may vary depending on how you measure it. If you have any doubt about this just get in touch with me.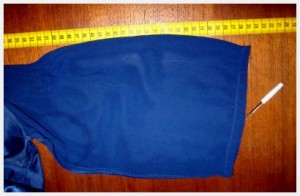 It was a very simple operation since my sleeve is closed down by the elastic but if you do it and it is not the case remember to try to measure the wide of your arm and respect the shape of the original sleeve, otherwise the sleeve could end up being too narrow.
And finally here is the result: