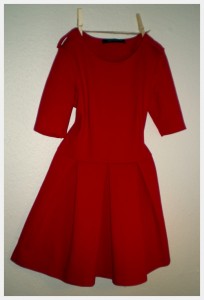 How to look different with the same dress
How to create 6 different looks with 1 dress
We tend to think that we need new clothes to look different. Well.. Good news! That's not true. First of all there is nothing wrong with wearing all the time the same clothes but if you are one of those that likes to play with your creativity and also likes to look different, there is a way and fun to do so.
During the years we all stock shoes,  handbags, jewellery, jackets …  and it is thanks to these accessories that we can make a difference in our look.
Today I'm going to show you how to do it. Cheap, easy, fast and fun!

I have had this red dress for a while now and I love it. I might have worn it a thousand times but it is a basic that I can use all year around. I love the simplicity of the dress. It is feminine, warm and comfortable. It is also very basic which is always an advantage because simple things are timeless and easier to combine with accessories.
 Versatility
Night Looks
The first example is two night looks. In the first one, black pantyhose and patent leather shoes with a handbag give a very chic allure to the dress.
In the second example,  I play with golden accessories. This look can be great in summer when we are normally all a bit tanned.
Spring & Winter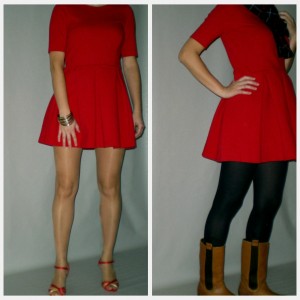 Here we have two very different looks that help us make the same dress useful for two different seasons of the year.
The first one is a  spring /summer look that can be used as well for a party. Summer red heels and some golden bracelets keep the look simple but feminine and fun.
In the second picture I am dressed more casual. Navy blue pantyhose and Navy blue wool scarf (remember , it is the scarf  I made out of a skirt). This look it is perfect for fall/winter, with a wool jacket or a coat.
 
Black is chic
In this last example we continue with the mix between casual and night look but here I paired the dress with black accessories.
In the left picture I am just wearing a black scarf and low grey snake shoes. The handbag is a leather vintage bag.
On the right, I am wearing a high heels 1920's inspired and a shiny little jacket that I bought 8 years ago and goes perfectly with party dresses.

Now it's your turn



As you can see, even though the base is the same: the red dress, playing with accessories, make up and hair can make the dress look completely different. Take a look in your closet, bring back to life all that stuff that you have forgotten in the bottom ( shoes, scarves, bags…) and use it! ( or give it away). It is not only with new stuff that you can get a new appearance, with a little bit of creativity everything can be updated!