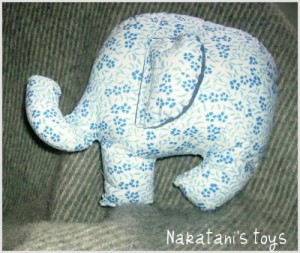 Sewing for Children: Elephant toy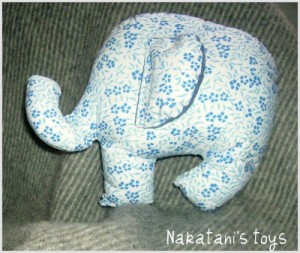 In the last years I have discovered that one of the funniest things ever is sewing for children. The choice of fabrics can be funnier and the ideas are endless; you can make toys, clothing, decoration, fabric books…
I also like the idea of  giving our children something with history  and warm feelings. Of course, the idea of giving something unique is also very important.  There is nothing more impersonal than being dressed all the same and to own all the same thing.
One of my first sewing projects was this toy. I draw the pattern  myself. It was the first time I searched for some ideas and inspiration on Internet. Don't be afraid of that, there is nothing wrong with getting inspired by others. It's a way to improve ourselves. Of course, you can always add your personal touch.
As you can see I chose a very simple pattern. I must admit I was a bit concerned about the final result so I went for something I knew for sure it would be fluffy.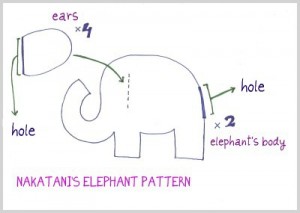 The fabrics I chose are cotton flowered one for the main pieces and blue marin fabric for the back of the ears.
The idea is to cut double patterns  (front and back). In my case it meant to cut four pieces for the ears since each elephant has two!
The procedure is very simple.
How to sew the ears
1. Putting the fabric inside out, I sew the ears, letting the straight side open to be able to fill them up with something later.
2. I turned it inside in and I filled up the ears with some small pieces of old fabric (you can use cotton or any similar material).
3. I sew each ear to its side of the elephant.
How to make the elephant's body
To make the elephant body, the procedure was the same.
1.I turned the fabric inside out and sew it all around. I left a little opening in order to fill up the elephant.
2.Then, I turned it inside in and through the small hole I filled it up with small fabric pieces until it was fluffy enough.
3. The last step it is to sew the little hole by hand.
Our elephant is ready to hit the jungle!
This is the basic and easiest version but if you have some more time and creativity, you can add some details like the eyes, a tale… you can even play with a patchwork of different fabrics and of course you can choose a different kind of animal or shape.
Remember that you can always contact me if you have any doubt, need some help or simply to share your ideas!